Monday, June 13, 2016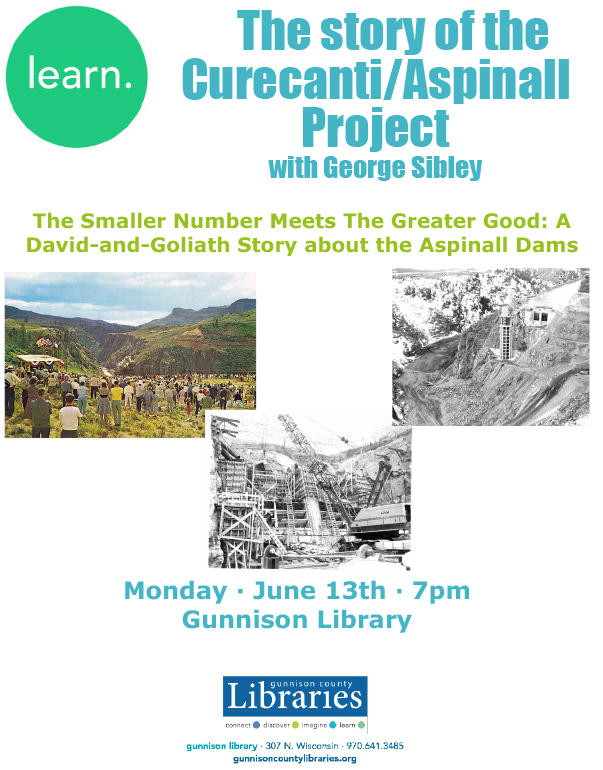 Thursday, June 23, 2016
Craig Childs presents at Western Union – 5:30 Reception, 6:30PM Presentation
Craig Childs writes about the relationship between humans, animals, landscape, and time. His stories come from visceral, personal experience, whether in the company of illicit artifact dealers or in deep wilderness. Childs has published more than a dozen critically acclaimed books, including his most recent book, Apocalyptic Planet, which won the Orion Book Award and the Sigurd F. Olson Nature Writing Award. He lives off the grid in Western Colorado.  This event is free to the public.
Friday, June 24, 2016
R.R.A.F.T.'s FLOAT AND FRY – Community Float to the Gunnison County Whitewater Park  Fish Fry  5:30 – 9:00PM
Live Music by Madajo Drift – Fish Fry on the banks of the Gunnison River – Upslope Brewing Co. Beer Garden.  Fried fish, hushpuppies, fries, coleslaw and BBQ beans – $12 a plate.  AND at 7:00PM the unveiling of the inaugural "Gunnison Waters" poster.  Artist, Allan Ivy.
Saturday, June 25, 2016  


Gunnison River Festival
Competitive Events/Educational Expo/Kids Zone
at the Whitewater Park  11AM – 4PM
Events for Kayakers, Rafters, SUPers and Surfers
Fun for all whether you are competing or spectating
GVAWL Canine Big Air Contest 11:30AM
McLaughlin Whitewater Inflatable Rodeo 12:15PM
Colorado River Surf Competitive Surf Comp  1PM
Gunnison County SUP Race 1:45PM
Immersion Research Freestyle Kayak 2:30PM
Gunnison Country Shopper Hooligan Race 3:15PM


(Times subject to change depending on flow and number of participants.)



Gunnison River Festival's Downtown Block Party presented by Gunnison Arts Center – 5:00 – 9PM

Live Music with Polyculture Mountain Reggae
Plein Air Auction, Food and Gunnison Arts Center Cash Bar
Sunday, June 26, 2016
Rocky Mountain Rafts Down River Raft and Kayak Races – Taylor River


Todd's Slot to South Bank  10AM


Gene Taylors Bridge to Bridge Flyfishing Tournament


5 Mile to Three Rivers Resort  10AM



Come to Gunnison a few days before the Gunnison River Festival and participate in the Colorado Water Workshop  June 22-24, 2016  COLORADO WATER WORKSHOP "Where the Water Meets the Land"  Western State Colorado University – Gunnison, Colorado  http://www.western.edu/academics/undergraduate/environment-sustainability/conferences/colorado-water-workshop
This business proudly participates in the 1% for Open Space program, a non-profit consortium of over 100 businesses working to permanently preserve open lands, recreational accesses, viewshed corridors, ranch lands, watersheds, ecosystems and wildlife habitats in Gunnison County.  As a Gunnison business, donations we collect help fund projects from Almont south.  http://1percentforopenspace.org